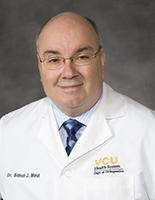 Office information and hours
VCU Medical Center Ambulatory Care Center
417 North 11th Street, 3rd Floor
Richmond, Va. 23298
For appointments, call (804) 828-7069
Stony Point Orthopaedic Clinic
9000 Stony Point Parkway
Richmond, Va. 23235
For appointments, call (804) 560-8945
Specializations
Dr. Simon J. Mest specializes in the care and treatment of complications from diabetes; forefoot problems such as bunions, hammertoes, foot corns and calluses; heel pain and heel strain; and general foot disorders.
Board certification and licensure
Dr. Mest is licensed to practice in Virginia.
Educational background
Medical school: Temple University, College of Podiatric Medicine
Undergraduate study: LaSalle College, Philadelphia
Professional affiliations
Dr. Mest serves as president of the Virginia Podiatric Medical Association and is the podiatry representative for the Carrier Advisory Committee for Medicare.