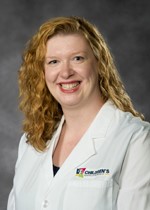 Office information and hours
Children's Hospital of Richmond
1000 East Broad Street
Richmond, VA 23219
For appointments, call (804) 828-2467
Website:
Fredericksburg Multispecialty center
10530 Spotsylvania Avenuw. Suite 101
Fredericksburg, VA 22408
For appointments, call (540) 891-3173
Board certification and liccensure
Educational background
Fellowship:Children's Hospital of Pittsburg
Residency: University of Kentucky Medical Center
Medical school: VCU School of Medicine
Undergraduate study: Central Connecticut State University
Areas of interest
Hip dysplasia
Clubfeet
Scoliosis
Orthopaedic trauma
Professional affiliations
American Academy of Orthopaedic Surgeons
Ruth Jackson Orthopedic Society
Research interests
Trauma
Pediatric hip conditions
Publications
Alexander D, Horstmann JJ, Walker J, Talwalkar V, Iwinksi H Jr, Milbradt TA. Transporation of pediatric femur fractures to a tertiary care center: a retrospective review. Iowa Ortop J. 2014:34:166-70. PMID: 25328477.
Zou Y, Fisher PD, Horstmann JK, Talwalkar V, Milbradt TA, Puleo DA. Synergistic local drug delivery in a piglet model of ischemic osteonecrosis: a preliminary study. PMID: 26196370.
Ahearn K, Akkouris G, Berry PR, Chrissluis RR, Crooks IM, Dull AK, Grable S, Jeruzal J, Lanza J, Lavoie C, Maloney RA, Pitruzzello M, Sharma R, Stoklasek TA, Tweeddale J, King TR. The charles river "hairless" rate mutation maps to chromosome 1: allelic with fuzzy and a likely orthologue of mouse frizzy. PMID: 12195039.