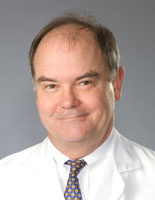 Office information and hours
VCU Medical Center Ambulatory Care Center
417 North 11th Street
Richmond, Va. 23298
For appointments, call (804) 628-0351
Stony Point Orthopaedic Clinic
9000 Stony Point Parkway
Richmond, Va. 23235
For appointments, call (804) 628-0351
Specialization
Dr. William C. Foster specializes in musculoskeletal tumor surgery, orthopaedic oncology and musculoskeletal infections.
Board certification and licensure
American Board of Orthopaedic Surgery
Commonwealth of Virginia Board of Medicine License
Educational background
Fellowship: Orthopaedic Oncology, University of Florida
Residency: Orthopaedic Surgery, Virginia Commonwealth University Medical Center
Medical school: Virginia Commonwealth University Medical Center
Undergraduate study: Virginia Military Institute
Professional affiliations
Dr. Foster is a member of the American Academy of Orthopaedic Surgeons and the Richmond Academy of Medicine.
Recent publications
Yaghmai I, Foster WC. Intraosseus ganglion of the distal end of the ulna with a pathological fracture. Skeletal Radiology 1987: 16(2): 153-6.
Hanks GA, Foster WC, Cardea, JA: Treatment of femoral shaft fractures with the Brooker – Wills Nail. Clin. Orthopaedics. 1988. Jan. (226) 206-218.
Blumberg KD, Hanks GA, Foster WC, Cardea JA. The Brooker – Wills Femoral Nail: Technical difficulties and their avoidance. Special Technical Publication 1008. Philadelphia American Society for Testing and Material, 1989.
Resnick CS, Foster WC: Achilles Tendon Ossification and Fracture Journal of the Canadian Association of Radiologists. Volume 41: June 1990.
Fern, SE, Coggins CA, Massey HD, Foster WC: Intramuscular Angiomatous Tumors Associated with Periosteal Changes and Pain. JSOA, Spring 2005, vol. 14, No.1.