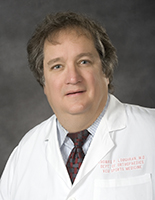 Office information and hours
VCU Health Sports Medicine
1300 West Broad Street, Suite 113
Richmond, Va. 23284
For appointments, call (804) 828-0822
VCU Medical Center Ambulatory Care Center
417 North 11th Street, 3rd Floor
Richmond, Va. 23298
For appointments, call (804) 828-7069
Specializations
Dr. Thomas P. Loughran specializes in general orthopaedics, sports medicine and arthroscopy, including hip arthroscopy; complex knee and shoulder ligament reconstruction; and cartilage regeneration, including micro fracture, chondroplasty, allograft, carticel regeneration and compartment syndrome evaluations.
Board certification and licensure
Virginia State Board of Medicine
American Board of Orthopaedic Surgery
Educational background
Fellowship: University of Pennsylvania
Residency: Virginia Commonwealth University Medical Center
Medical school: Virginia Commonwealth University Medical Center
Undergraduate study: The College of William and Mary
Professional affiliations
Dr. Loughran is a member of the Arthroscopy Association of North American, American Academy of Orthopaedic Surgeons, Orthopaedic Trauma Association, American Orthopaedic Society for Sports Medicine, American College of Sports Medicine and the Richmond Orthopaedic Society.
Professional achievements
Dr. Loughran serves as the medical director of VCU's Sports Medicine Clinic and is a physician for the athletic teams of VCU and Virginia Union University, as well as for Richmond's AAA baseball team, the Braves. He has served as VCU's orthopaedic consultant for the Society of Sports Therapy/United Kingdom. For four years he has been nominated for MCV Hospitals' Clinical Physician of the Year, and for five years he has been named a Richmond "Top Doc" in Sports Medicine.
Current research
Dr. Loughran's research focuses on arthrofibrosis of the knee and stress syndromes in the athlete. Plans are under way to investigate osteoporosis in the young athlete.